As a pioneer leading the 3D technology for shoe manufacturing, Kings 3D has won 80% share of the 3D printer shoe market, and has been very popular in shoe manufacturing countries such Vietnam, Indian, Indonesia, Bangladesh, Turkey, and etc. Kartel Kalip is one of the earliest customers of Kings in Turkey, and also the fastest growing kalip (mold) company in Turkey by adopting sla 3d printers.
The writer has the honor to interview the founder of Kartel Kalip. Below"Q" is questions from the writer, and "A" is answers from the founder, Mr. Mehmet Karacus, of Kartel Kalip.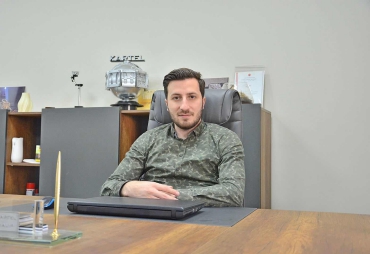 Q: When was Kartel Kaplip established? How many staff do you have? What are the major machines you're using right now?
A: Kartel Kalip was established in the year of 2013. The team include 30 people, with 8 designers, including myself. Now we have 2 Kings SLA 3D printers for shoe model printing, 4 metal CNC machine for mold tooling, and a new set of mold casting machine.
Q: When did you bought the first SLA 3D printer? How do you use the 3D printer? You're one of the first shoe molding companies to purchase 3D printer in Turkey, what are the benefits do you see from the machine?
A: I bought the first Kings 6035Pro with a neighboring shoe mold company in the end of 2017. It's really helpful for me. Some designs is impossible to carve from CNC machines, but it's easy for Kings 3D printer. We use the Kings 3d printer to print our designs, all kinds of shoe models. And we also use the printer to print master models for casting mold, for which we print all sizes together, with big demand.
My printing demand grows fast, and in 2018 I bought the second printer on my own, during which Turkish Lira has depreciated to the lowest point, still i know it's worthwhile to order the 3D printer soon. Last year, in 2019, I added another printer, Kings 600pro, which is almost double the size of the previous one, bigger, and faster. I like it very much.

Q: Turkey has come through some economic challenges in the past years, what are the factors making your company grow so rapidly in spite of the unsatisfying economic environment?
A: We not only supply mold to big shoe manufacturers in Turkey, but also export to many countries, Italy, Morocco, Russia, Ukraine and etc. 70% of our business come from export. We can make all kinds of mold, including TPU, PU RUBBER, TR 1 COLOR, 2 COLOR, 3 COLOR and etc. We've adopted the best technology, and we have rich experience in mold. My customers likes the quality of Kartel Kalip.
Q: I saw a global map in your meeting room, how do you feel the importance of turkey's location?
A: Turkey is in the middle of Eurasia, connecting Europe and Asia. Shoe mold always choose sea shipping. We're close to Europe, 3 days only for land shipping to Italy. It helps to cut the lead time. Geographical advantage for Turkey and for us.
Q: What are the benefits of 3D printer compared to model CNC? I heard it can save up to 100,000 Lira labor fee(Around 16,000 USD), is it true?
A: Main benefit is that it can print details, textures that CNC can't carve. Also for labor fee, yes, I reduced one CNC operator, as 3D printer need no operator. The programming work is much easier, saving half the time. Also lots of manual work has been saved. I believe it has saved me more than 100,000 Lira per year in labor fee.
Q: Why do you choose Kings 3D?
I Chose Kings 3D as my first Kings 3D printer because I know Kings is really doing well in shoe. And I continue to buy Kings 3D because I have seen it's faster, more stable, and also very fast responsive in questions.
Website of Kartel Kalip: www.kartelkalip.com
You might want to know more:
· Resins for Shoe Model and Mold
· What materials should we choose for 3D printing shoes?
· How Does Kartel Kalip Grow into a Leading Shoe Mold Maker in Turkey?
· Why did the 10,000-employee shoe factory choose the Kings sla 3d printer?
·Shoe Industry: Should I Choose Desktop DLP 3d Printer or Industrial SLA 3D printer?