Shoe manufacturing is a multi-step, labour-intensive process, which requires a lot of specialized machines and workers to make separate pieces and fit them together to create a finished pair of shoes. Continuous efforts are made to optimize the manufacturing process, and that's how 3D printers are adopted.

Kings 600Pro shoe model printer(3D shoe printing machine) is such a perfect solution for making the shoe models. With 600*600*400mm build size, it is able to print 8-10 pairs of different shoe designs within 20 hours, approximately 2 hours a pair on average. Get a free quote about 3D shoe printing machine.
How is Kings SLA 3D printers used for shoe industry?
1. Shoe prototype
In the footwear industry, it is necessary to produce physical models to check the design appearance before deciding whether or not to move forward with production. While the traditional way of creating shoe models is still by CNC machines which is costly, slowly and unable to produce complicated shoe sole design, 3D printing is shaping new possibilities in footwear engineering, enabling footwear companies to create shoe models with clear lines, sharp edges and corners and also address the growing demand for customization.
UV Resin KS408B is ABS-like with accurate and durable features, especially perfect to show details of the shoe sole model.
2. Fitting test
With KS198S rubber like resin, the 3D Printed shoe model can be used for checking design, and can also be tried on for fitting test.
3. 3D printed shoe models for casting mold
The use of 3D printed shoe molds can effectively replace the CNC-engraved wooden molds and perform sand casting, and the molds made from 3D printed master have finer textures and patterns.
4. 3D printed models for quick mold
The 3D printed mold skips the casting process and directly uses it for the production of PU shoe soles. It can be used for plastic injection, PU and cold-pressed insole molds. It is temporarily not suitable for hot-pressed rubber, molded EVA and injection EVA.
5. Direct printing of finished shoe soles
In the future, everyone can tailor their own shoe with 3D printing. It is more in line with the personal size, and at the same time can achieve a lighter and more comfortable sole structure.
If you want to know more about 3D shoe printing machine, please feel free to contact us.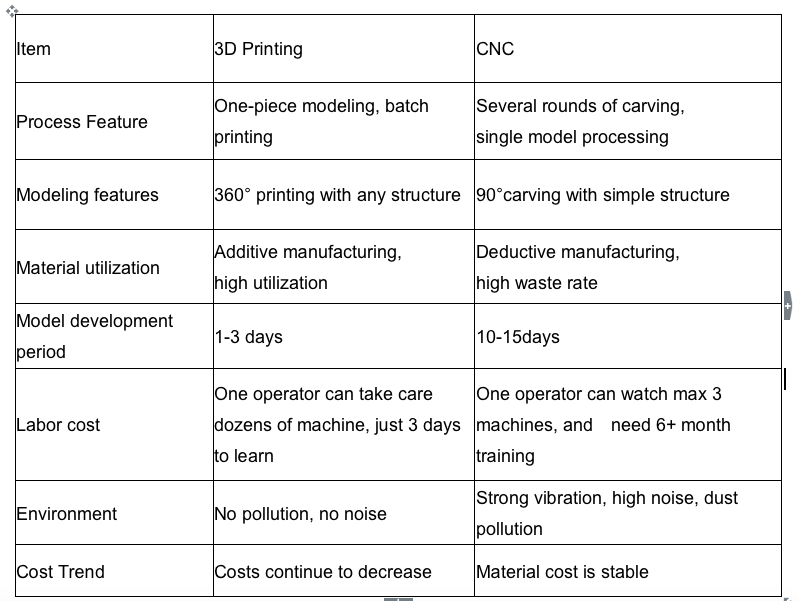 Recommended 3D Printing Material: UV Resin KS408B, UV Resin KS608, UV Resin 198S


Benefits of 3D printing machine


1.Optimize Prototyping
Footwear companies can use 3D printers to create both aesthetic and fully-functional prototypes and don't require tooling to produce models. Simultaneous prototypes that feature different designs, dimensions, and textures can be easily printed and tested. Capable of creating geometrically complex shapes, designers can leverage 3D printing to produce intricate designs and consolidate parts.
2.Faster Time-to-Market, Reduced Risk, and Greater Agility to Meet Market Demand
The rapid prototyping capabilities of 3D printers enable companies to compress development time and bring new products to market faster than with traditional methods. Early field testing with fully-functional prototypes ensures the product operates as intended and reduces potential market risks.
3.Deep Customization Possibilities
Production processes like injection molding cannot produce individualized products due to tooling constraints and set up time. Customers that need custom footwear require a specialist to hand make the product. With 3D printing, it is much easier, faster, and more consistent to make custom products.
Footwear manufacturers can also use 3D printing technology to develop diabetic footbeds. Patients suffering from diabetic foot syndrome wear custom-produced footbeds to minimize the risk of foot ulcers. Tailored to fit the patients' foot dimensions, the footbeds provide the ideal amount of cushioning and stiffness. 3D printed lattice footbeds are digitally designed to relieve pressure from affected areas and are more breathable made of longer-lasting material, and are more accurate to the patient's feet than conventional solid footbeds.
Related news
Features and Functions of 3D Printers
How Long Does It Take a SLA 3D Printer to Print a Model
Evolution of Shoe Model and Mold Materials