KS608A UV Resin is a commonly used 3D printing material with accuracy and durability. Similar to the plastic properties of ABS, it is used in stereolithography (SLA) 3D printers.
KS608A UV Resin can be used in model making and prototyping of automotive, medical, consumer electronics, etc.The parts duability building with KS608A UV Resin is over 6.5months.
Typical Features
-Liquid resin`s medium viscosity, so easy recoating, easy clean parts and machines.
-Improved strength retained, improved dimensions retention of parts in humid condition.
-need minimal part finishing.
-Long shelf life in machine.
Typical Benefits
-Need less part finishing time,easier post-curing.
-Buliding accurate and high tough parts with an improved dimensional stability.
-High quality controls for vacuum casting parts.
-Color is more close to the ABS.
-Outstanding machinable SLA material.
UV Resin 3D Printer-SLA Technology
Due to the combination of laser and resin, SLA is a very precise 3D printing technology. UV resin 3D printer consists of a Vat (a Resin Tank), a Build Platform, An Elevator, a Light Source, and a Pair of Galvanometers.
The construction platform is located above the large barrel and is fixed on the lifting machine for the lifting construction platform during the printing process. Under all of this, below the bottom of the large barrel is the test plan. These are a set of moving mirrors for laser beams. The stream meter guides the laser beam to the bottom of the large barrel according to a set of precise coordinates.
The light source used by the SLA 3D printer is a solid laser. When the laser beam hit the resin slot under the guidance of the current, it will curing the resin at a specific point. When the laser completes a layer of solidification, the height of the platform is raised by one layer, and the process is repeated until the part is completed.
Use the UV resin SLA 3D printer to make the printing material smooth, high and constant accuracy and constant. Welcome to contact us for the UV resin SLA 3D printer price!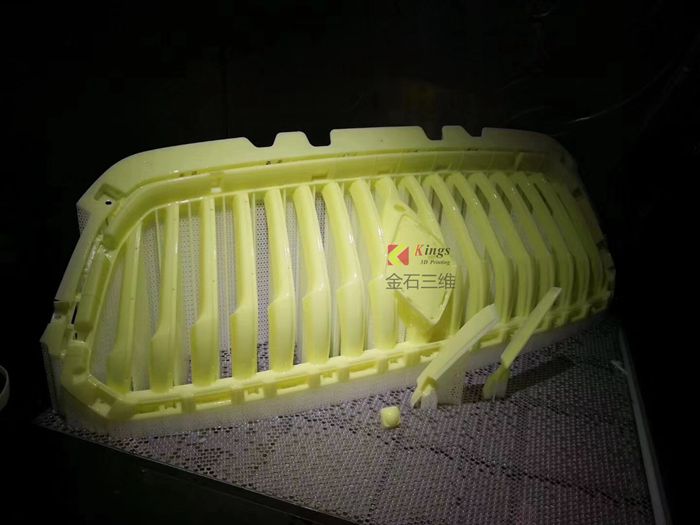 Physical Properties – Liquid Material
| | |
| --- | --- |
| Appearance | Light yellow |
| Density | 1.11-1.14g/cm³ @ 25 ℃ |
| Viscosity | 355-455 cps @ 28 ℃ |
| Dp | 0.135-0.155 mm |
| Ec | 9-12 mJ/c㎡ |
| Building layer thickness | 0.05-0.15mm |
Mechanical Properties of Post-Cured Material
| | | |
| --- | --- | --- |
| MEASUREMENT | TEST METHOD | VALUE |
| | | 90-minute UV post-cure |
| Hardness, Shore D | ASTM D 2240 | 76-82 |
| Flexural modulus, Mpa | ASTM D 790 | 2,650-2,760 |
| Flexural strength, Mpa | ASTM D 790 | 65- 74 |
| Tensile modulus, MPa | ASTM D 638 | 2,160-2,360 |
| Tensile strength, MPa | ASTM D 638 | 25-30 |
| Elongation at break | ASTM D 638 | 12 -20% |
| Poisson`s Ratio | ASTM D 638 | 0.38-0.42 |
| Impact strength notched Izod, J/m | ASTM D 256 | 58 - 70 |
| Heat deflection temperature, ℃ | ASTM D 648 @66PSI | 58 - 68 |
| Glass transition,Tg,℃ | DMA,E"peak | 55-70 |
| Coefficient of thermal expension, /℃ | TMA(T<Tg) | 92*E-6 |
| Density, g/cm3 | | 1.14-1.16 |
| Dielectric Constant 60 Hz | ASTM D 150-98 | 4.5 |
| Dielectric Constant 1 kHz | ASTM D 150-98 | 3.9 |
| Dielectric Constant 1 MHz | ASTM D 150-98 | 3.6 |
| Dielectric Strength kV/mm | ASTM D 1549-97a | 14.8 |
UV resin 355nm; SLA resin cost; how much does resin cost; photosensitive resin; 3D printing material