In the automobile world, when the designer's inspiration and modern casting blend with each other, a car comes slowly from the design drawings. But in fact, the process from design to mass production of a car is by no means easy, but goes through a long and complicated process.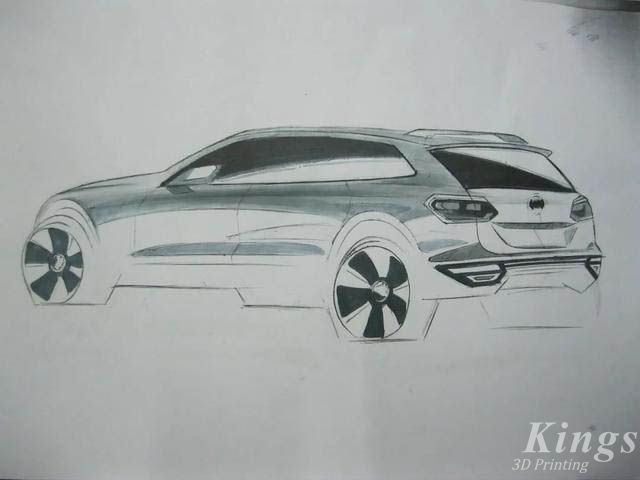 After the designers have finished the manuscript on the computer, they also need to make the plane graphics three-dimensional to create a near-realistic car model, which is a car clay model.
Clay models can really show the three-dimensional shape of the car, let people really feel the car design language: or low profile and stable, or stylish and elegant, or exciting.
Clay models provide great convenience for the modification, verification and evaluation of automobile design, so it is a very important link in automobile design.
So how exactly is a car oil clay model made? Next, we will share with you the whole process of making a car clay model.
Briefly combing, the whole process is divided into: making initial embryo, filling mud, rough scraping mud, fine scraping mud, film, and spray painting these steps, and finally installing headlights, tires and other parts.
Let's take a look at what oil clay is: it is a highly malleable clay composed of 62% talcum powder, 30% Vaseline, and 8% industrial wax. It is non-sticky, not easy to deteriorate, recyclable, and can be carefully carved.
The first step in making clay model is to make the first embryo. Because the sludge is expensive, it will be wasteful if you use it all inside the car body. Therefore, the first embryo of the model is generally cut and bonded with foamed plastic to make the basic shape of the automobile model.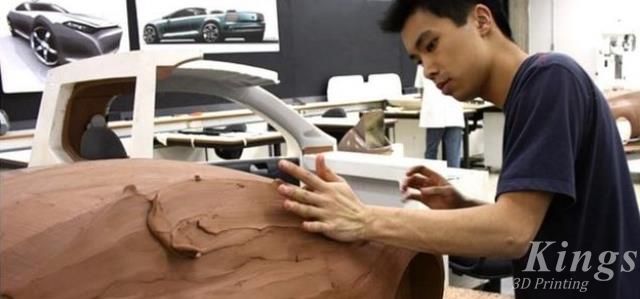 After the first embryo is done, it can be filled with clay, which should be baked and softened first, and then filled layer by layer on the first embryo. Each layer should not be too thick and ensure that the mud fits together until the whole embryo is filled.
Next, the rough scraping step is carried out, and the basic shape of a car model is shaped by referring to the car drawing and making repeated comparisons.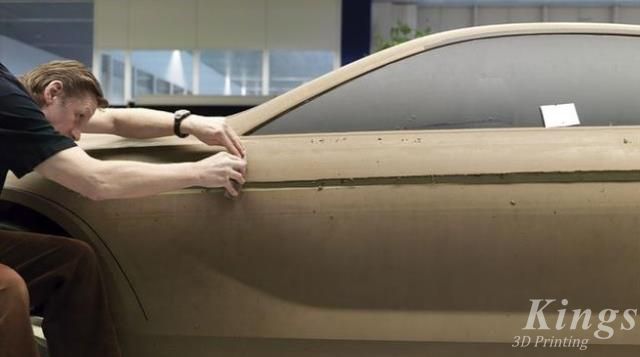 After that is the fine scraping putty, this time we need to use the special spatula and scraper to complete the details of the outline. Repeatedly confirm that the shape of the model is completely correct, and that the transition and smoothness of the connection of all surfaces should meet the design requirements.
After finishing the fine scraping, in order to make the details more rigorous, some models are also coated with metal film or painted on the surface to achieve a degree similar to the real car, so that designers can adjust the details more intuitively.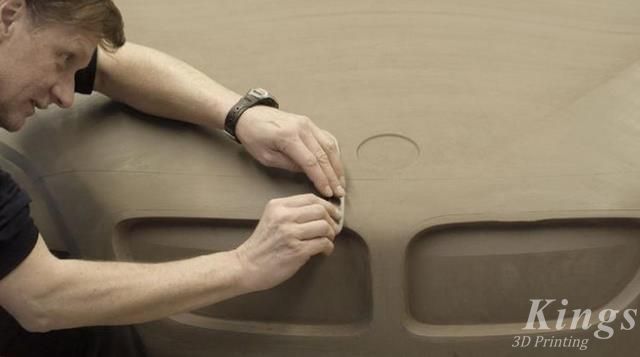 Some models do not need to compare the body color, people only need to finally install the headlights, wheels and other parts, a complete clay model is ready.
At this point, one can quietly wait for the design team to review the model, and after the review is passed, the whole car will be scanned and then enter the mass production stage.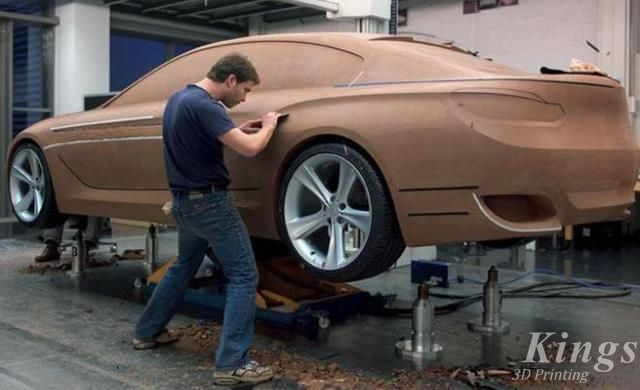 It usually takes 3-4 months to make a 1:1 car exterior model, and 2-3 months to make a 1:1 car interior oil clay model in a similar way.
The oil clay used to make the model is also quite expensive, a small piece of clay will cost thousands of yuan, a 1:1 clay model will consume about 200,000 yuan of imported clay, so it is not surprising that some models cost several times more than the mass-produced models.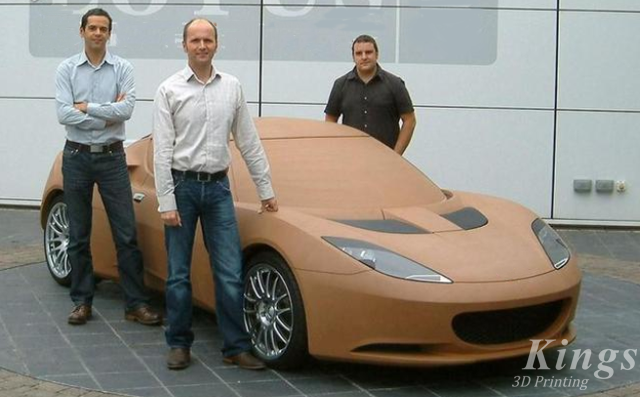 Clay models are complicated, long production cycle and high cost, so the question arises! Designers in the production of car models there are other options?
With the continuous development of 3D printing technology, 3D printing is widely used in the automotive field.
Take KINGS 3D's self-developed oversized SLA light-curing 3D printer JS-1700 as an example, it can produce 1:1 bumper, grille, dashboard and other automotive prototypes in an integrated manner, reducing the errors caused by splicing and the waste of labor costs.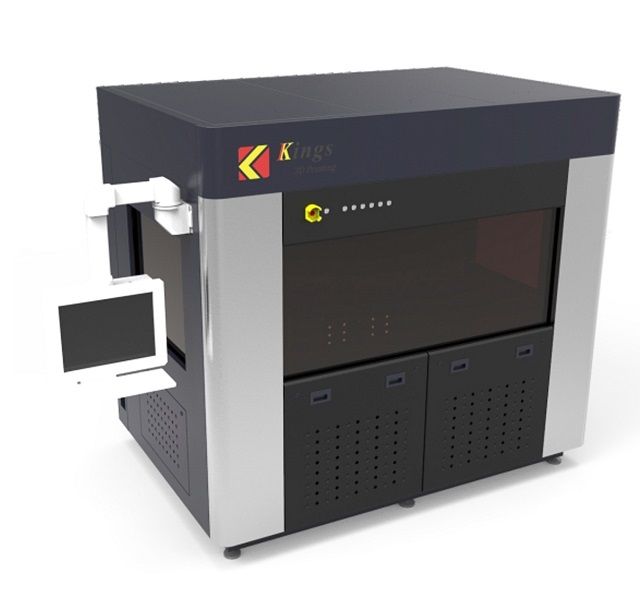 △ Oversized SLA light-curing 3D printer: JS-1700
JS-1700 has super-large format printing size, which can print products within the specification of 1700*800*600mm, enabling integrated printing of large-size prototype parts, effectively avoiding product errors caused by splicing, while reducing the production cost of hand board models, and achieving unprecedented improvements in precision, speed, surface quality, material types, reliability, and stability.
JS-1700 adopts the stable and efficient control system developed by KINGS, the overall printing process is fast and smooth, while using the industry's first variable light spot technology, the contour adopts a small light spot to ensure accuracy and surface quality; filling adopts a large light spot to ensure efficiency, equipped with dual laser heads, optimized scanning process parameters package to achieve intelligent and fast scanning, which can significantly improve printing efficiency and accuracy.
At the same time, using KINGS 3D printing combined with silicone compounding, low-pressure infusion and other rapid mold process, can quickly produce any product within 200 sets, compared with the traditional steel mold, cost savings of about 85% or more.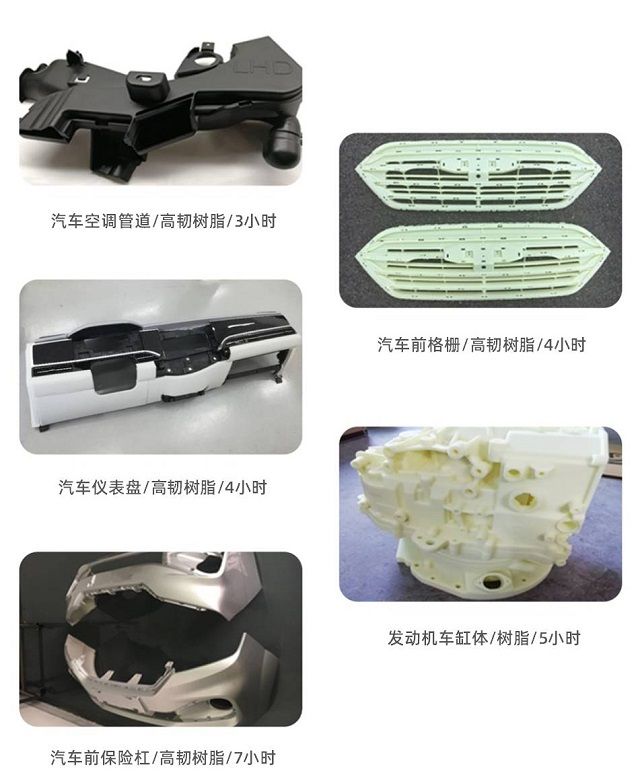 △JS-1700 oversized SLA integrated molding
KINGS 3D combines 3D printing and vacuum forming (low pressure infusion) process to form a rapid mold manufacturing method. KINGS 3D replica mold manufacturing department uses polyurethane resin to produce prototype parts with performance comparable to that of finished injection molded parts, and they can replace parts made of ABS, PC, rubber, etc. They can replace parts made of ABS, PC, rubber, etc. This ensures accuracy, reduces costs and greatly improves production efficiency!
If you use 3D printing to make a whole car model, KINGS 3D can be done in only about 15 days, compared to oil clay model, the efficiency is increased by more than 5 times, which can greatly shorten the development cycle of the car.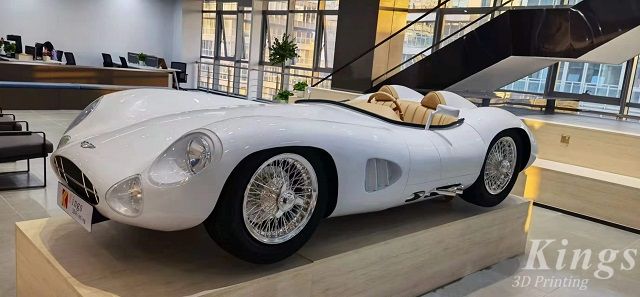 △KINGS 3D printing simulation sports car
In addition, KINGS 3D printing is also capable of hollow and complex structures which cannot be made by traditional processes) allowing designers' inspiration to be better utilized.