LCD desktop light curing new "high density, low cost" model, KINGS 3D Challenges Create@ Alibaba Battle of the Gods.
The Alibaba Battle of the Gods (Create@) Global Creators Competition is a global startup competition brand launched by AliCloud, known as the "Olympics" of the technology industry. Under the guidance of the national "manufacturing power" strategy, the 2022 Alibaba Battle of Gods "Smart Manufacturing Track" Global Challenge is organized by the People's Government of Haishu District, Ningbo and AliCloud, and hosted by AliCloud Innovation Center. The competition focused on the smart manufacturing industry, focusing on the selection of new tracks, new technologies, and new incremental and precise projects. After layers of evaluation, KINGS 3D successfully broke out from the fierce competition of more than 300 projects and will go straight to the top 15 of the national finals.

In this year's Alibaba Battle of the Gods "Smart Manufacturing Track" Global Challenge, KINGS 3D Shenzhen announced that it had won the ticket to the finals. In this challenge, KINGS 3D was recognized by the organizer's judges for its comprehensive advantages in the fields of ceramic 3D printing equipment development, new ceramic material development, and supporting software design, and will provide new competitiveness for the traditional ceramic manufacturing upgrade and change.

KINGS 3D self-developed LCD desktop light-curing ceramic machine and zirconia, alumina and other high-quality light-curing ceramic paste, will provide customers with a full set of solutions from LCD light-curing ceramic 3D printing materials, to LCD desktop light-curing ceramic printing equipment, to the actual application of the KINGS 3D LCD desktop light-curing ceramic machine using a new generation of optical engine development, with its supporting Zirconia, alumina and other different materials of ceramic slurry, can achieve a long time contained in the composition of non-deflection, non-sink, sintered printed ceramic samples with consistent high density, high mechanical strength, high temperature resistance, good chemical stability, corrosion resistance and other excellent characteristics.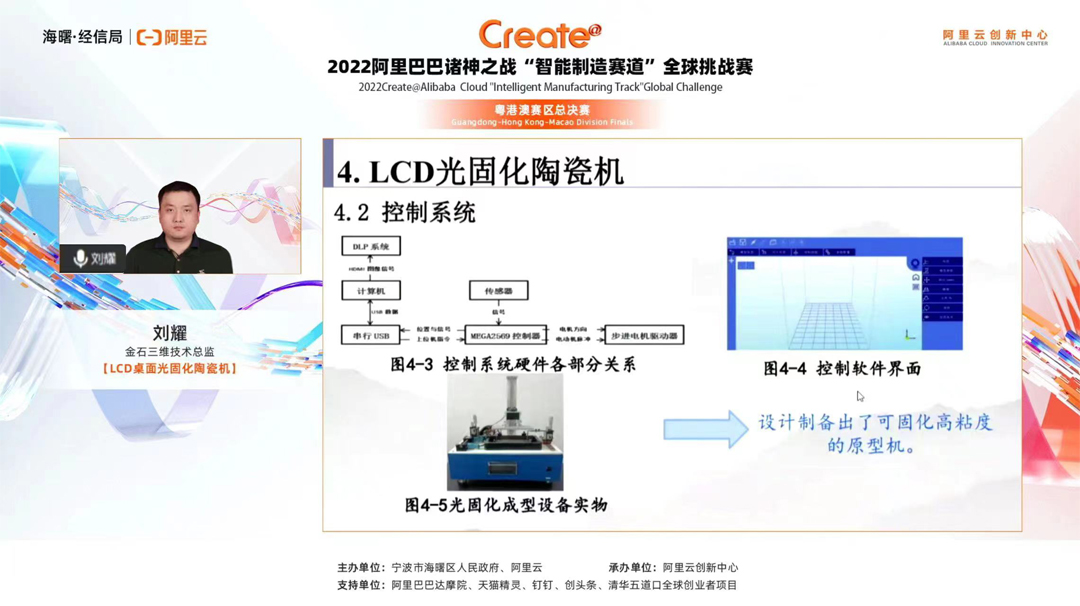 KINGS 3D participation in the field of line performance
Dr. Liu Yao, senior consultant of KINGS 3D, said: "The market demand of personalization, refinement and complexity makes ceramic-like structures more and more complex, and traditional processes and molding face huge challenges in terms of cycle time, precision and achievability. Applying KINGS 3D 3D printing technology to ceramic preparation allows for more freedom in design while shortening the manufacturing cycle, thus solving the problem of preparing ceramic parts for fine and complex structures."
Dr. Liu Yao said, "The ceramic 3D printers currently on the market are very expensive, and it is difficult to form sales support for the price of several million, which greatly increases the application threshold of ceramic 3D printing, while the subsequent application is risky due to its low stability. And KINGS 3D LCD desktop light-curing ceramic machine in the molding technology, resolution, price and other aspects of a leap, the comprehensive benefits are far better than SLA, DLP series of 3D printers."
In addition using the advanced LCD technology, KINGS 3D will also bring more possibilities for ceramic preparation in terms of cost reduction and efficiency by establishing the 3D model of LCD ceramic machine, secondary development on the existing motherboard, writing the supporting software, and using optimized and improved light-curing ceramic paste material.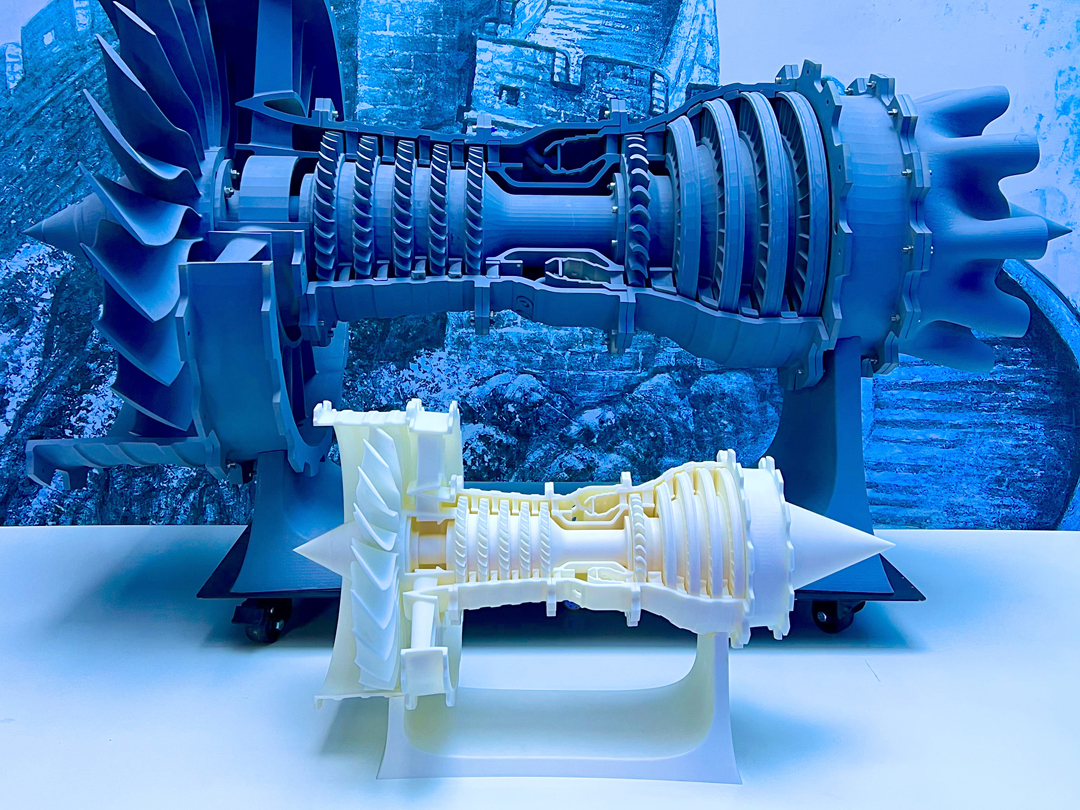 KINGS 3D ceramic 3D printing technology in the field of aviation applications
Dr. Liu Yao also said, "Ceramic 3D printing technology is widely used, the printed products have fine patterns, good hand feeling and environmental protection, but the light-curing ceramic paste is also extremely expensive consumables. The market light alumina and zirconia ceramic paste up to 6000 ~ 8000 yuan / kg, while the non-oxide paste reached tens of thousands of pieces. In this regard, KINGS 3D self-developed LCD light-curing ceramic paste is more affordable, which can help customers greatly compress material costs, but also improve the flexibility of materials, optimize material performance, and better meet the 3D printing of ceramic cores and high-performance ceramic parts required for precision casting. In addition, the relative density of the printed samples can reach 99% after sintering and light curing is completed."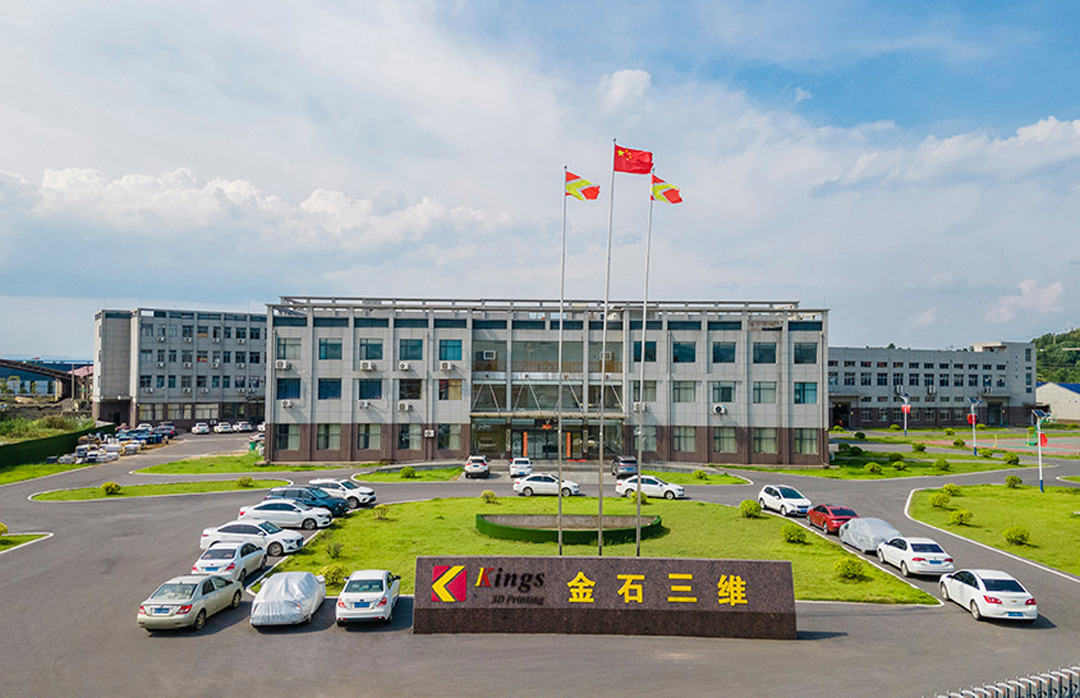 KINGS 3D Jiangxi Industrial Park
Keeping up with the frontier of 3D printing technology, KINGS 3D Shenzhen has been actively working toward technological improvement since its inception, and in 2017, KINGS 3D successfully opened up the application of ceramic market, and now widely serves in civil, industrial, medical, military and aviation fields. After years of technical research and upgrading iterations, KINGS 3D provides professional and perfect system solutions for manufacturing in various industries have covered equipment, process, training, supply chain and many other aspects.
Dr. Liu Yao said: "We hope that the addition of KINGS 3D LCD desktop light-curing ceramic machine will become the winning key for ceramic manufacturers to seize the first opportunity, grasp business opportunities and achieve better results. We believe that with the full support of KINGS 3D's professional team, the LCD ceramic 3D printing solution provided by KINGS 3D will achieve digital smart manufacturing from ceramic R&D to part production, and at the same time, with the advantage of cost and support, we will finally get ceramic workpieces with faster molding, better density and better performance, and sprint to the championship trophy!