7 years, we forge ahead, pioneering and innovative, together out of a road of innovation and development.
7 years, we pushed through the thorns, riding the waves, together out of a growth and transformation of the road.
7 years, we are diligent and self-restraint, professionalism and dedication, together on a solid road of progress.
7 years, KINGS 3D is how to take off from the newborn, and experienced what unforgettable past events, today take you to review the 7 years of KINGS 3D.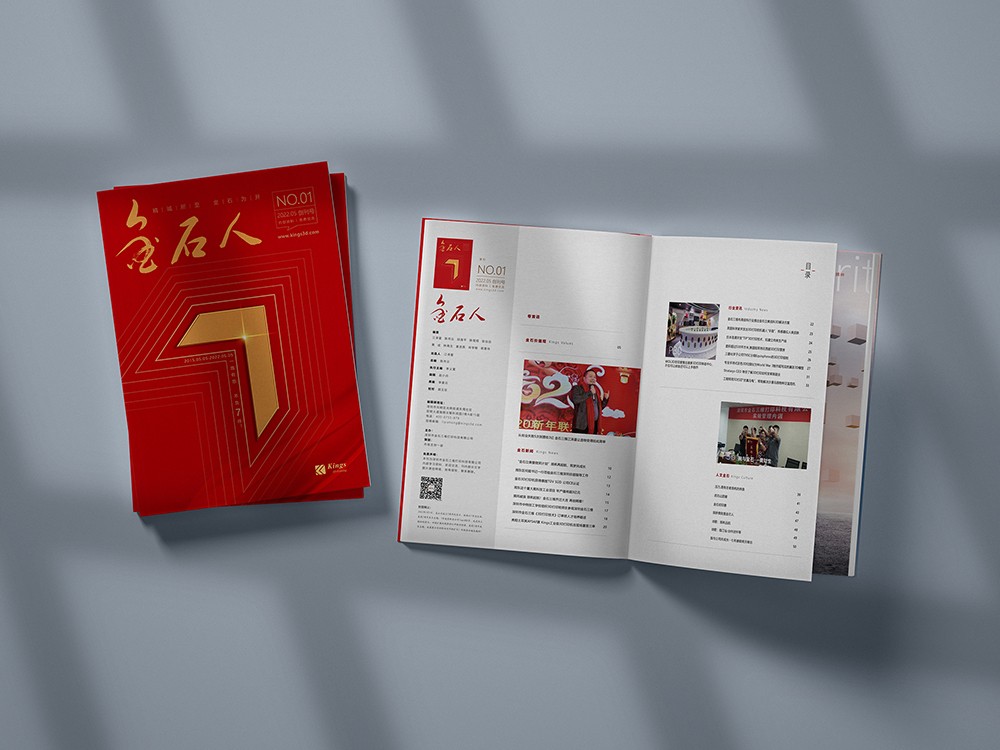 Dedicated to the 7th anniversary of KINGS 3D "KINGS people" internal magazine release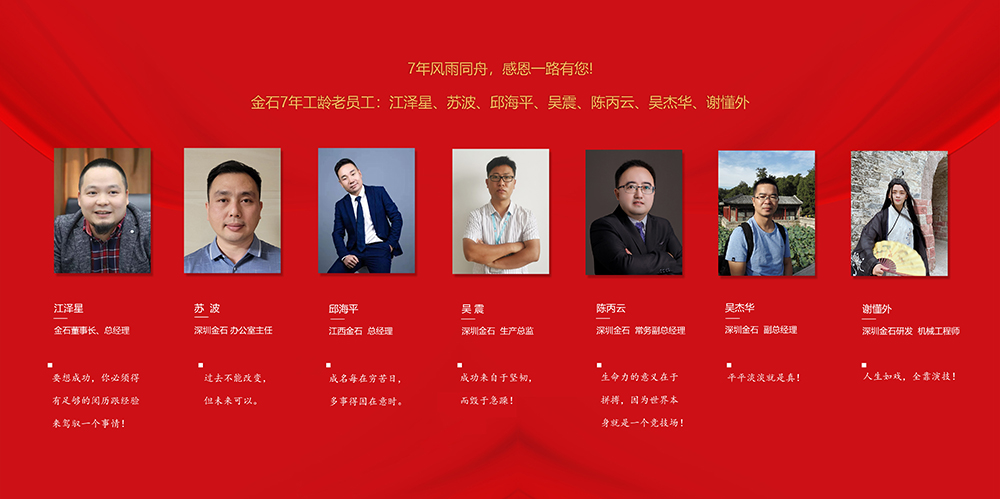 7 years of wind and rain together, thank you for the journey!
In 2015
May 5
Shenzhen KINGS 3D Printing Technology Co., Ltd. was officially established, and established a standardized and large-scale 3D printer production base. At the same time, also we began the research and development of 3D printing materials.
End of the year
KINGS 3D successfully applied 3D printing technology to the shoe industry and successfully carried out flip-sand casting, which kicked off the prelude of 3D printing application in China's shoe industry. Subsequently, it continued to occupy 90% of the market share in the shoe industry.
In 2016
KINGS 3D's Kings brand 3D printer gained recognition from the market layer in the field of hand board model, shoe industry and industrial design, and the sales volume multiplied month by month.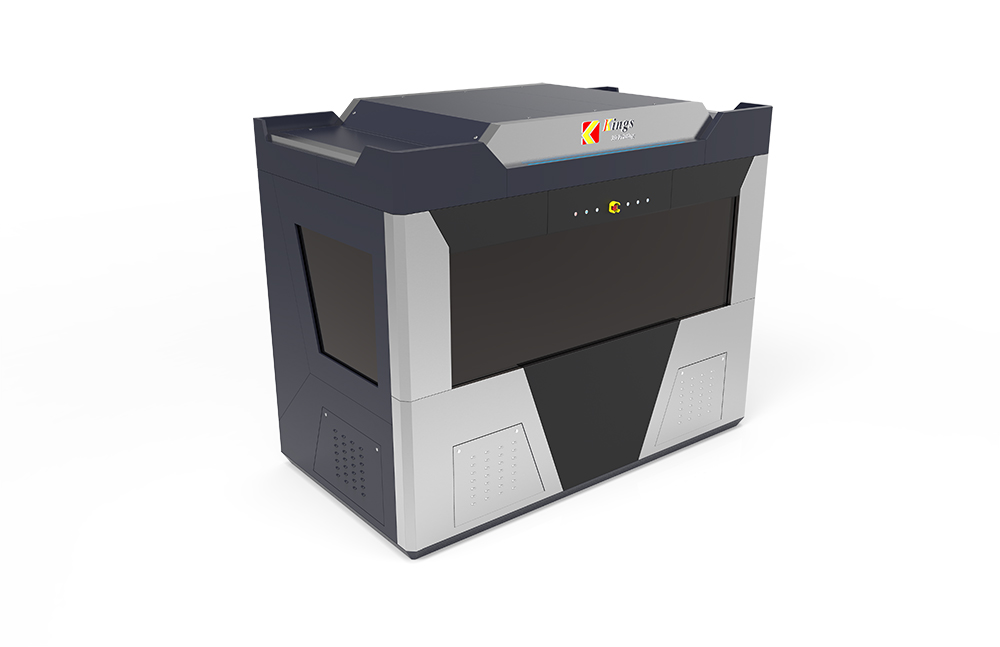 2m7 oversized SLA3D printer: JS-2700
In 2017
May
KINGS 3D launched intelligent variable spot variable power, dual lasers and other high-speed 3D printing technologies, which substantially improved the efficiency of SLA light-curing 3D printers and met the demand for batch rapid printing in industrial manufacturing.
August
KINGS 3D established ceramic division to provide solutions for ceramic industry, mainly applied to sample development, mold manufacturing, resin mold rapid manufacturing of ceramic sanitary ware, ceramic crafts and living pottery, with 50 times higher efficiency.
End of the year
KINGS 3D annual sales exceeded 100 million yuan, products are exported to Southeast Asia and Europe and other overseas markets, establishing the position of the leading brand of industrial grade 3D printers.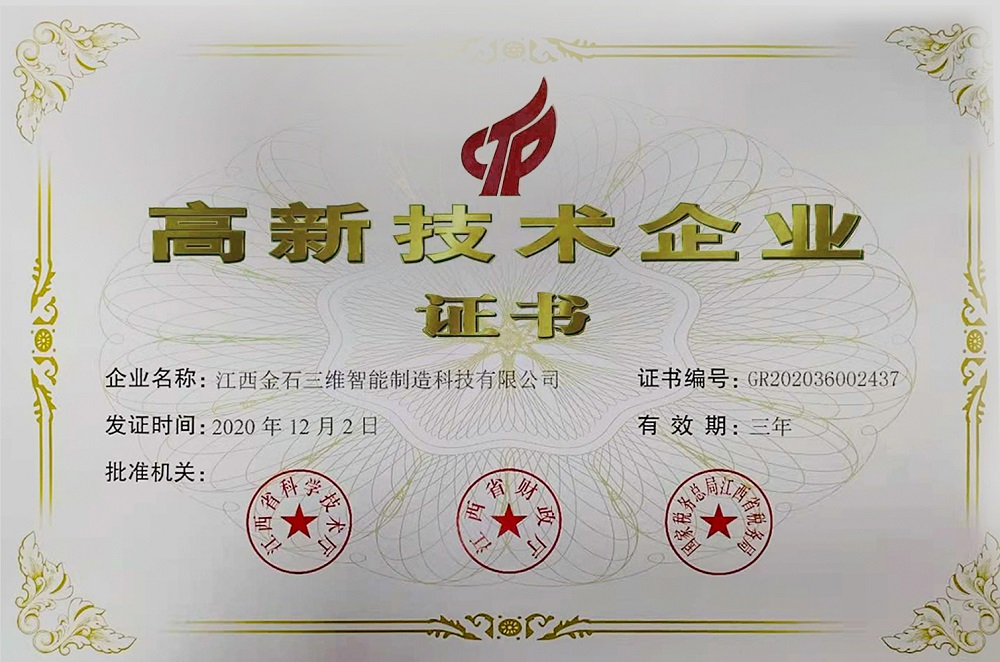 National High-tech Enterprise Certificate
In 2018
April
KINGS 3D launched large size SLA light-curing 3D printer, with large molding size of 1700*800*600mm.
July
Launched intelligent variable spot variable power scanning technology V6.0, automatic database management and other 3D printing control software technology, Kings industrial SLA3D printer again speed up 30%.
November 8th
KINGS, as the pioneer of China's 3D printer export, was highlighted by CCTV news broadcast and Eastern Time.
November 9th
KINGS 3D signed a contract with Xiangdong District Government of Pingxiang, Jiangxi to put into production an intelligent manufacturing industrial park and establish an 80-acre 3D printing industrial park.

CCTV news broadcast and Oriental Time column focus on the report
In 2019
We were awarded "Shenzhen Famous Brand" and "Software Enterprise", and received the certificate of "Weaponry Quality Management System Certification"; at the same time, the production base in Jiangxi was put into operation, covering an area of over 50,000 square meters, with a substantial increase in production capacity, and increased the production line of 3D printing materials production line, the realization of 3D printing materials self-production.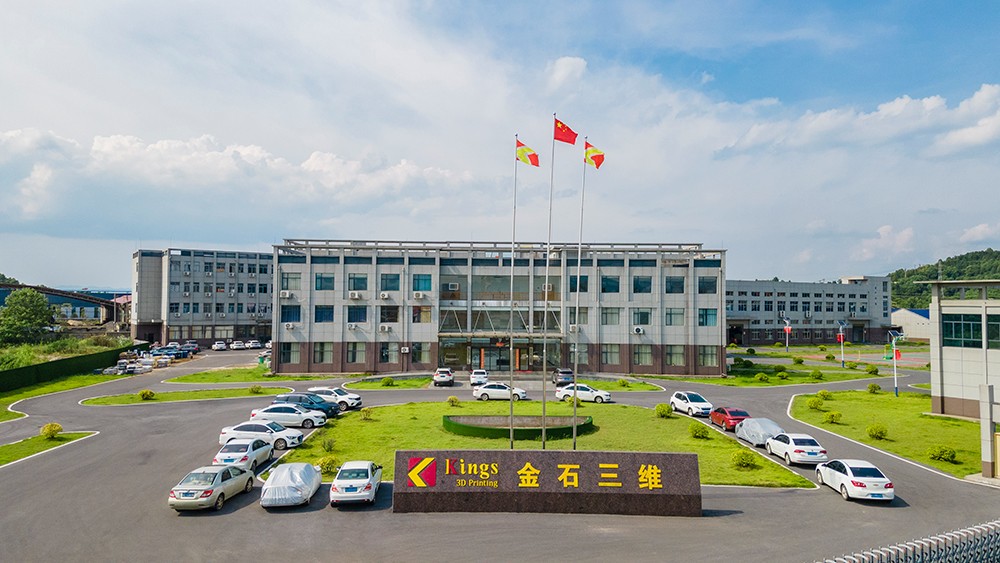 KINGS 3D Jiangxi Industrial Park
In 2020
In Yubei District, Chongqing, we set up a wholly-owned subsidiary to build the largest all-category 3D printing service center, whole vehicle R&D laying assistance center and auto parts small batch manufacturing base in southwest China.
In 2021
Launch SLM, SLS, DLP and other 3D printing equipment to enrich the product line and establish the industry position as the head enterprise of domestic 3D printing industry.
December 3
KINGS 3D relocated to Yunzhi Technology Park in Guangming District, Shenzhen.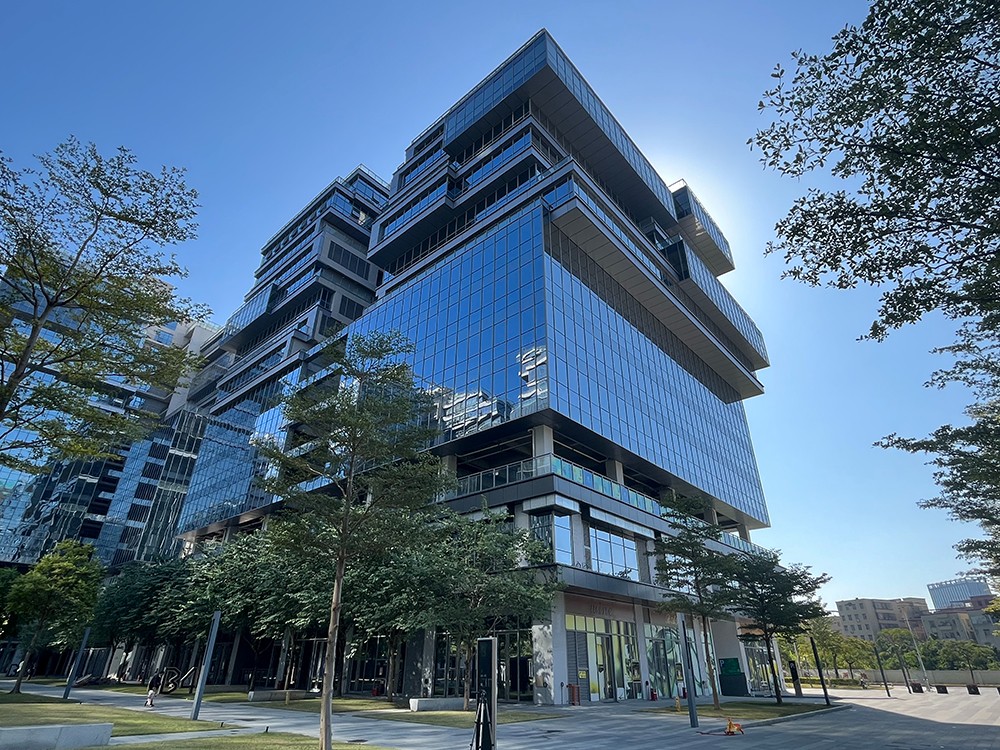 KINGS 3D headquarters new location (Guangming District Yunzhi Science and Technology Park)
In 2022
On the occasion of the 7th birthday of KINGS 3D, we upgraded our mission vision.
KINGS Mission: KINGS Smart Manufacturing makes life better!
KINGS Vision: Become a global intelligent manufacturing leader!
As the saying goes, every 7 must change, change is the eternal theme, every change, let KINGS 3D extraordinary achievements, but always the same is:
KINGS spirit: Faith can move mountains.
KINGS core values: innovation and dedication, cooperation and win-win, integrity and gratitude!
KINGS team concept: the pursuit of self-less, perfect self!
KINGS service concept: more than customer satisfaction!
Looking back, we strive to make progress and move up; looking forward, we will increase our horsepower and make progress together.
Happy 7th birthday to KINGS 3D!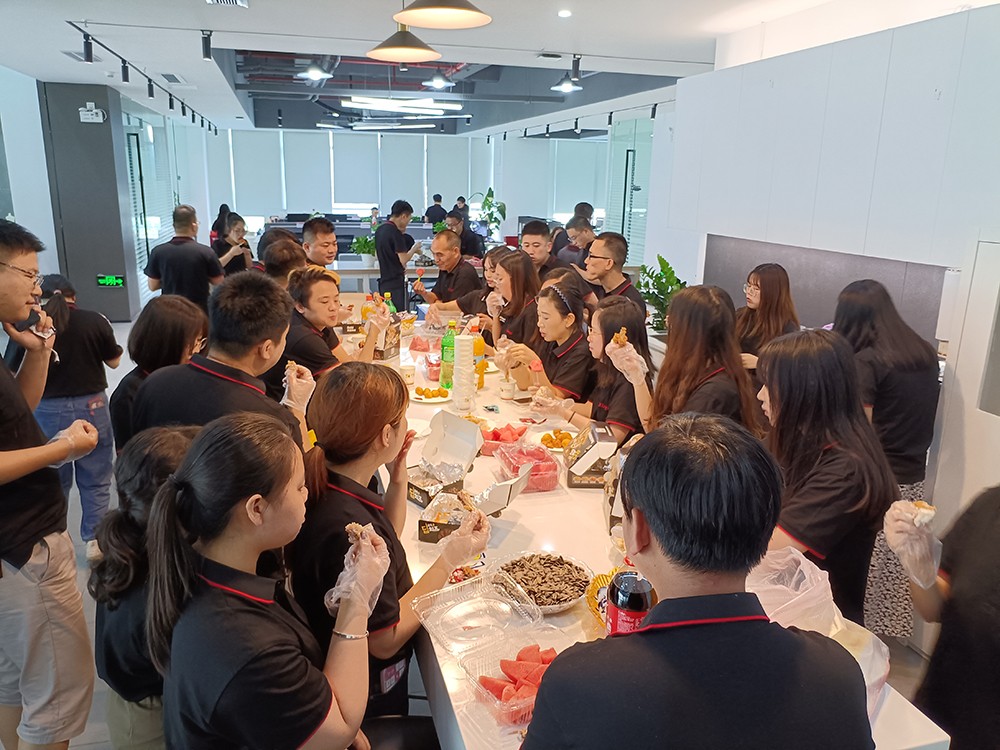 KINGS 3D 7th anniversary celebration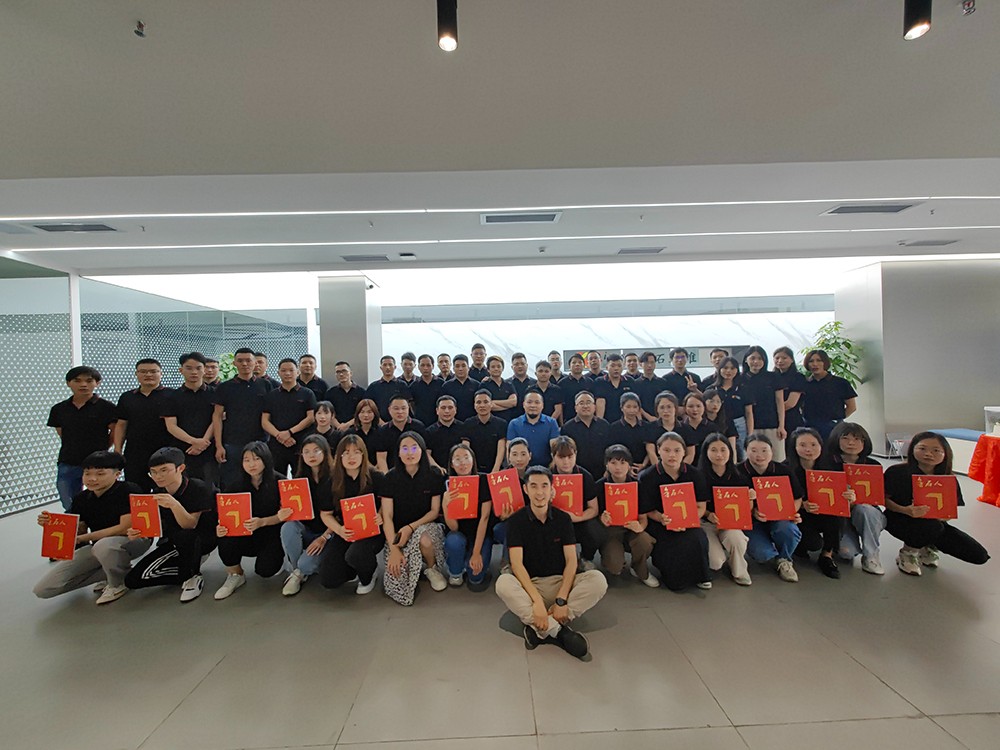 KINGS 3D 7th anniversary celebration group photo