Kings is a well-known manufacturer of resin 3D printers and Large SLA Printer and SLA 3D Printers in China, mainly producing large (stereolithography) SLA 3D printers, which are industrial 3D printers.
At present, the mainstream industrial 3D printing technology principles on the market mainly include SLA (stereolithography), SLS (selective laser sintering of powder materials), SLM (metal powder rapid prototyping), LOM (stacked solid manufacturing) and the like. Among them, SLA 3D printers are the most widely used type in the industrial field.
With a large format, 600*600*400mm, the Kings 600pro makes it easy to quickly shape most industrial parts. It has the characteristics of high precision, fast speed and large size. It has been the most popular resin 3D printer model since its introduction.
The Kings 600 pro uses a stereolithography principle to laser-jet liquid resin, from point to line to surface layer by layer. It is a classic machine for additive manufacturing, which can produce products of any geometric shape. Compared with traditional CNC machines, he can help users save a lot of labor costs and increase production efficiency by more than 5 times. Especially in the production of some structurally complex parts, its advantages are more prominent.
Kings 600pro's control software features batch import data, automatic database management, process parameter database management, and intelligent variable spot power, which can increase print speeds by more than 100%. Compared to other SLA 3D printers, Kings is more than 30% more efficient.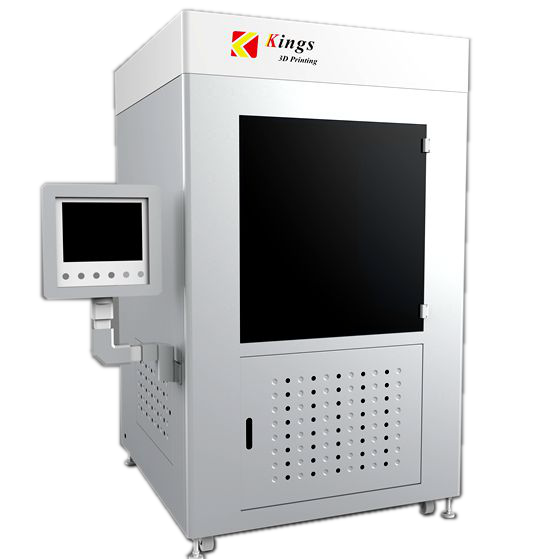 To ensure the stability and printing efficiency of the equipment, Kings Industrial SLA 3D printers use high-quality lasers, high-precision scanning systems, marble platforms, screw guides and other excellent accessories.
In terms of form factor design, Kings 600pro helps users save space and reduce rental costs by minimizing body size.
In China, more than a thousand companies use Kings sla 3d printers, including prototyping companies, shoe mold factories, industrial design companies, architectural model companies, invisible braces manufacturers, car manufacturers, etc., and are also used in medical, education and other industries.
SPECIFICATIONS OF KINGS-600 INDUSTRIAL SLA 3D LASER PRINTER
Basic information
Construction Size: 600mm(X)×600mm(Y)×400mm(Z)
Equipment Size (without display): 118cm(W)*129cm(D)*224cm(H)
Equipment Weight:about 1200kg
Rated Dissipation: 1.8KVA
LASER SYSTEM
Laser Type: Nd: YV04 Solid Laser
Wave Length: 355nm
Power: Minimum Power to Liquid Level≥300mW
COATING SYSTEM
Coating ModeIntelligent Position Vacuum Recoating
Normal Layered Thickness: 0.1mm
Rapid Build Layered Thickness: 0.15mm
Precise Build Layered Thickness: 0.05mm
Special Build Layered Thickness: 0.05mm~0.20mm
OPTICAL & SCANNING SYSTEM
Light Spot(diameter @1/e2): 0.10-0.15mm
Scanning Mode: Germanic Galvanometer Scanner
Parts Scanning Speed: Maximum 15.0m/s
INSTALLATION CONDITION
Current Source: 200-240VAC 50/60Hz, Single Phase,10A
Ambient Temperature: 20-26ºC
Relative Humidity: <40%,Frost Free Knot
ELEVATOR SYSTEM
Vertical Resolution Ratio: 0.0005mm
Repeat Positioning Accuracy: ±0.01mm
RESIN TANK
First Tank Weight: about 240kg
Forming Material: Photosensitive Resin
Resin Heating Method: Bottom Heating with Silicone Rubber
CONTROL SOFTWARE
Machine Control Software: KING3D Control Software
Device Software Interface: 3D Design Software, STL File Format
SOFTWARE SYSTEM
Master Controller Operation System: Windows 7/10
Network Type and Protocol: Ethernet, TCP/IP