With the growing demand in batch 3D printing, KINGS has invented a high speed SLA 3D printer JS7255 which has solved the mass production problem. The average printing time for the shoe sole is only 42 minutes, which is the fastest in shoe model manufacturing.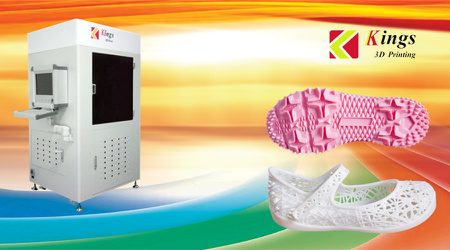 JS7255 is equipped with dual laser head for scanning, German vibrating mirror scanning system and the intelligent positioning vacuum adsorption coating system, which greatly improves the printing speed. JS7255 adopt SLA light curing 3D printing technology, and the thickness of the layer is up to 0.05mm. The printed products not only have precise details and excellent mechanical properties, but also have a much lower printing cost than other 3D printing technologies.

The printing size of JS7255 is 720*550*390mm, which can print not only large size products, but also small ones in batch.