From February 21st to 23rd, 2019, the global 3D printing company gathered at the Shanghai New International Expo Center. The Kings high-speed SLA 3D printer launched by Jinshi 3D received the attention of many professional audiences and peers. The newly upgraded Kings light-cured 3D printer has an important upgrade in software, and the printing speed is increased by about 30%.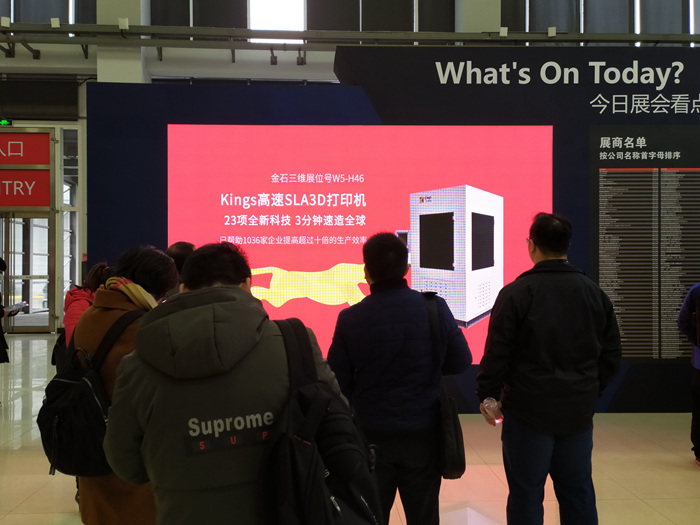 Audience staying in front of the Kings 3D printer billboard
At the heart of 3D printers is the control software. The Kings high-speed SLA3D printer has eight new technologies for improving print speed and efficiency.
8 Core technologies, multiply printing efficiency.
1、Intelligent high speed scanning system, variable spot and power, 20%~100% faster compared with fixed spot scanning system.
2、With the parameter database for different layer thickness and convenient switching from one another, printing efficiency is highly improved.
3、3 times contractive scanning technology, multiple outline scanning mode and frontlighting printing mode; high speed printing combined with high precision, get better surface perfection compared with the same layer thickness products.
4、Mass data rapid import, hold-on adjusting position of parts, Multiple parts automated composition, improve printing efficiency.
5、Scanning routing database system, automatic scanning route, customize scanning route, optimize product quality and production speed.
6、Upper and lower surface automatic identification, different parameter settings for different model parts, such as: upper surface, lower surface, outline, principle parts, support structures, improve printing speed.
7、Advanced intelligent vacuum system, coating evenly, improve printing speed, capable for large-size parts printing.
8、High quality fixed laser, stable, high power, higher molding speed.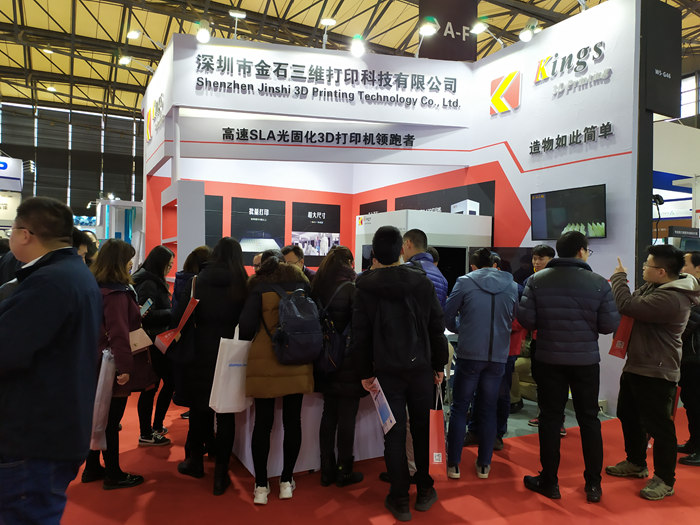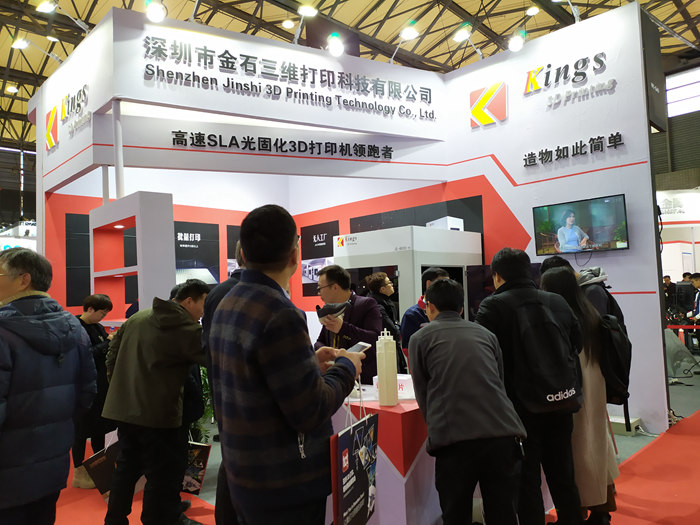 Audience in front of the booth of Jinshi 3D Printing Company
In addition to the speed improvement, the Jinshi R&D team also made eight optimization designs for the stability of the equipment, from software to hardware.
8 optimized design, ensure stability and precision.
1、High accuracy liquid level detection and asynchronous control system, ensure printing stability.
2、On-line laser detection, automatic power attenuation compensation, full automatic parameter setting, ensure printing stability.
3、Using precise positioning system to avoid the difficulty of large area calibration plate, improve auto-calibration accuracy and flexibility.
4、Plunger liquid level adjusting structure with high accuracy liquid level detecting system, improve rapid liquid level control accuracy, stabilize printing process.
5、Redundant designed resin tank, fully avoid resin contamination to the guide rail, ensure the max printing dimension, and production precision & efficiency.
6、Hot air circulation heating system, heating the surface of resin, resin temperature remain stable and avoid resin deterioration, lower power consumption and more energy efficiency.
7、Integrated marble body structure, ensure long-term stability.
8、High-accuracy absolute positioning servo-motor, ensure printing precision, Z-axis precision test certificate available.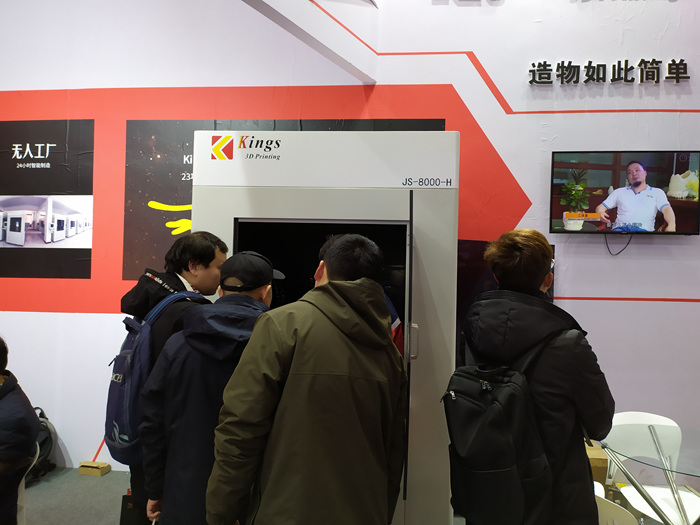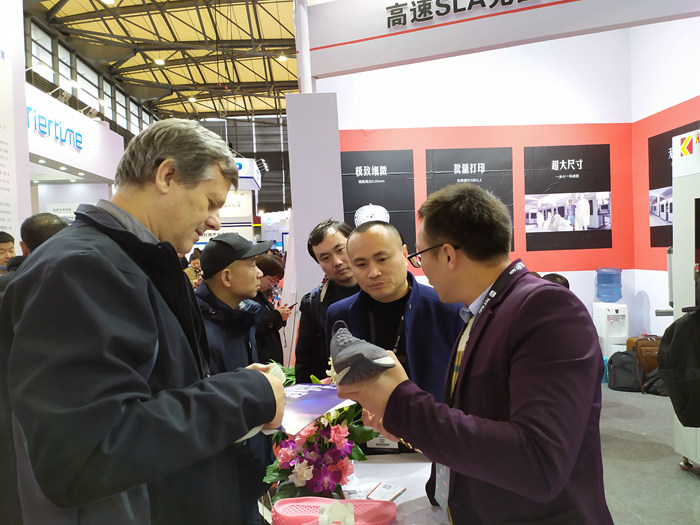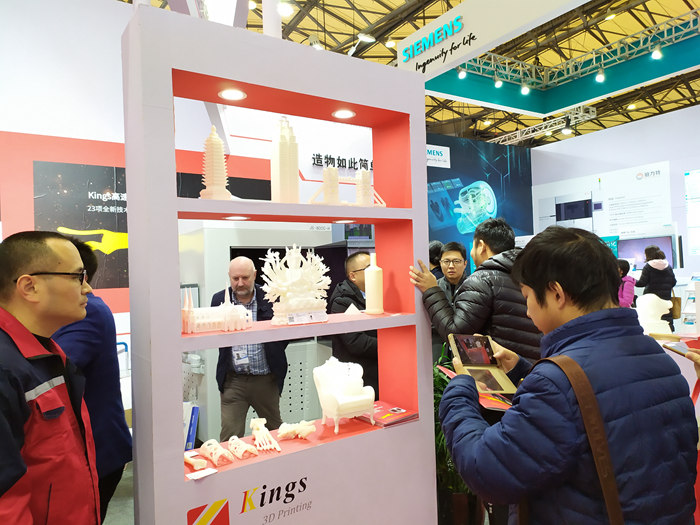 Guests can view Kings 3D printers and print products
As the most concerned intelligent manufacturing equipment, the intelligence of 3D printers, such as remote control and data encryption, has also received much attention.
More auxiliary function, convenient maintenance management
1、Data encryption, customizable data format, prevent corporate secrets disclosure.
2、Power management, auto startup & Shutdown, more energy-efficiency.
3、Real-time monitor equipment condition and parameters, and in time alarm, minimize danger.
4、Processing time accurate prediction, deviation within 30mins, convenient work arrangement.
5、Easy operation, no man supervise required, realize 24h unmanned manufacturing
6、Complete printing data record, so as to further analysis and troubleshooting.
7、Customizable remote control function, remote control start, stop, photograph, real-time view production video. Remote check equipment condition via mobile phone.